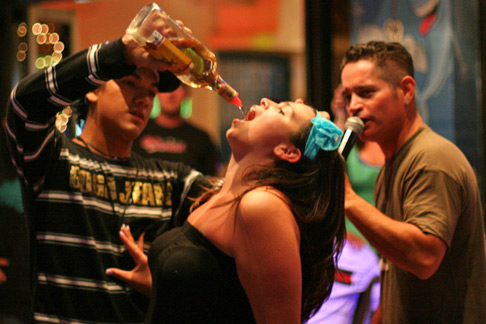 Alcohol addiction is bad as it is, but the situation is definitely becoming bleaker with alcohol addiction sapping younger and younger minds with each passing day. Children as young as 12 years are into alcohol consumption nowadays and by the time they reach the age of 15 years they can become unshakable alcohol addicts. The easy accessibility of alcohol to children and its acceptability as a social drink is what makes children think that alcohol is quite accepted everywhere. Once they get into the habit, it is very difficult to shake it off.

But alcohol addiction in teens has brought forward a host of problems of its own. Since alcohol can directly hamper with the brains of children, and the age of 12 to 15 years is the age of puberty when a lot of brain development takes place, we are possibly producing a generation of mostly brain benumbed children. These children are growing up with irreversible damage to their brain, which will make them slow thinkers as they grow up. This is a huge loss to society.
Teenagers get a bigger kick out of alcohol abuse than older people do. These inebriated kids then indulge in activities that can imperil their lives. The best example here is driving under influence, which can cause innocent deaths. DUI is a global problem today, with almost all countries labeling it as illegal.
Teenagers on an alcoholic high will become sexually hyperactive, which can cause problems of promiscuity and the various connected issues, including AIDS.
That is the reason why alcohol rehab is targeting teenagers to a great extent. Hopefully, with the collective efforts of society and these rehab centers, the problems of alcohol addiction in teenagers will subside.