Help can be very difficult to ask for, especially if you have a problem with alcohol or drug abuse in Ohio. The Ohio treatment facilities know how hard it is to ask for help, and they also understand that in many cases, the addicts themselves are incapable of seeking help. Interventions for alcoholism and drug abuse are not uncommon, and there are many Ohio treatment centers for drug rehab and alcohol treatment that are available to help.
If you are an addict and you've taken the crucial first step in admitting you need help, or if you have a loved one, who needs help, take comfort in the fact that you are not alone. There are Ohio treatment centers to help you with addiction recovery.
Addiction recovery is a long process and involves much more than just detoxification of toxins in an addicts system. That's really only one of the phases of addiction treatment and perhaps one of the easiest. The real work comes in teaching an addict how to live a life drug free, how to function in society without falling into the trap of alcoholism or drug abuse again.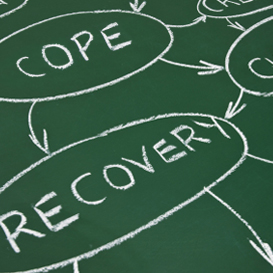 There are a variety of Ohio drug rehab programs and alcohol treatment facilities that use a variety of methods for addiction recovery.
Some replace the drugs or alcohol with other medication to ease the physical withdrawal symptoms while others use drug free programs that are aimed at full recovery without medication.
Regardless of the type of Ohio treatment program you choose, there are a variety available with in patient programs, short and long term residential/live in programs and outpatient counseling programs.

All of these Ohio addiction treatments involve detoxification as well as teaching the addict how to live drug free, how to deal with daily life and stress without falling back into their addiction. However, addiction recovery extends beyond the actual addiction treatment. Follow up programs, support programs, and after care are just as important as the original alcohol or drug treatment. Addicts require a wide web of support from programs, family, friends and the communities that they live in.
In 2005, Ohio had approximately 690,000 people who had an alcohol addiction and 259,000 people with a drug dependency. Of those, only 38,000 alcoholics and 31,000 drug abusers got the help they needed from an Ohio treatment program. Leaving nearly 700,000 addicts without treatment is not helping the situation of drug and alcohol abuse in Ohio; in fact it's only making matters worse.
There is a need for more Ohio alcohol treatment centers and drug rehab programs in the state to help solve the addiction problem. It's important to realize that as addictions rise in the state, so do statistics of crime, poverty, abuse and violence – these go hand in hand with addiction – more addiction, more crimes, more pain, and more poverty.
Families are being destroyed, relationships shattered and communities deeply affected. You can help.
Ohio addiction treatment centers can help. All you have to do is call to seek the help that you need and get on the road to addiction recovery.

Ohio Addiction Support Hotlines

Ashley – (740) 251-9016
Lancaster – (740) 277-2216
Cincinnati – (513) 206-9650
Lima – (419) 386-2660
Cleveland – (216) 370-7847
Marion – (740) 251-9010
Columbus – (614) 429-1596
Medina – (330) 529-8478
Dayton – (937) 310-2260
Mentor – (440) 809-8485
Elyria – (440) 328-8123
Painesville – (440) 249-7067
Groveport – (614) 610-1390
Reynoldsburg – (614) 328-9743
Hamilton – (513) 785-0842
Westerville – (614) 423-6724